Helpless Nigerian man, Musa Modu is one of those people that have suffered rejection because of what happened to him when he was a kid. He narrated his ordeal while he was speaking to BBC pigin in an interview.
"I have been trying to find work to do since I came down to Lagos but because of my condition people don't allow me to work with them. At times when my friends help me find work, as soon as I present myself to the employers and they see my face they wouldn't allow me to work for them. Maybe by looking at my face, they think I would be unable to do the work but in my mind, I think I can to any work, Musa Modu said.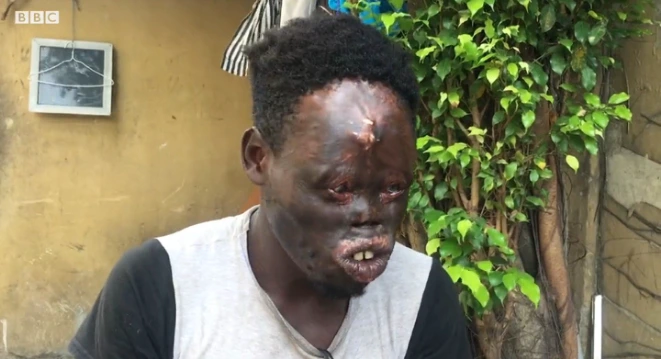 Musa Modu
Musa Modu wasn't born that way, he got burnt by fire when he was a child while his parents were in the farm working to be able to provide food for the family. He was born in the state of Borne but he has live in Lagos state for over 8 years in search for greener
They are many good Nigerians who wouldn't reject him working for them. We pray that his case would be like that of Mary Daniel, the one legged sachet water hawker who has received so much love from kind hearted Nigerians because of her situation.